Timex Ironman One – Phone-Free Smartwatch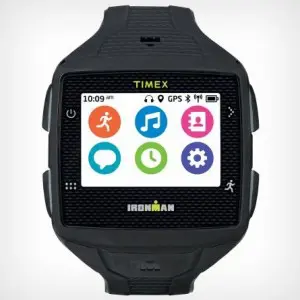 The name Timex is associated with quality, well-priced wristwatches that are fuss-free and attractive, and now this giant of the watch-making world has entered the smartwatch market with an innovative design aimed at a certain class of buyer. Smartwatches have long been favored by fitness fanatics thanks to their in-built fitness tracking ability, and this one is no exception. However, the Timex Ironman One is a smartwatch with a difference, and it is one that may make everyone sit up and take notice.
The Timex Ironman One GPS+ is a 3G capable device, meaning it does not need a phone nearby to enable it to do the job. This is a major development, as most of its rivals need a smartphone close by in order to connect with apps and other usable features. That the Ironman does this on its own is going to be a very appealing factor to those who need it for the gym or running, and who do not want to have to carry a smartphone as well as the wrist-worn device. Clever design such as this is essential in a market that, while still young, is growing quickly, and in which new developments in technology are appearing all the time.
The specifications of the Ironman One are impressive, which should come as no surprise. Not only is it 3G capable but it also features 4GB of memory, a colossal amount in such a minuscule device. A year's free 3G connection comes with the device, courtesy of AT&T, while an MP3 player and full GPS, complete with an emergency mode in case of problems, is also included, and the design is waterproof, dustproof, and comes with anti-shock properties. This is a very capable machine with some unique attributes, and one that may change the game in some areas of smartwatch design.
With a full range of tracking apps – and others – available for use on the Ironman it is going to be extremely popular with athletes; it will also appeal to the gadget-savvy youngster who is looking for the latest cool device with which to impress his friends. The only downside is that Timex is not a name much favored in trendy circles; it is one that is associated with more mundane watches rather than up-market models. This smartwatch, however, is very much worthy of interest, and may be just what Timex needs if it is to attract new customers.
Estimated Availability: PREORDER NOW, available to ship in November
Cost: $400